Discloses a sterile, disposable surgical drape / gown having top and bottom layers sandwiching there between a blank of elastic material having equally-spaced holes. The top and bottom layers have aligned square openings exposing thereby said elastic material and holes. Covering tabs having sealing tabs seal the openings in the top layer and lift tabs to facilitate manipulative removal of the covering tabs.
The drape is specifically designed and constructed so that tubing, wiring, cables, and the like that are operatively connected to non-sterile equipment may be sterilized and neatly arranged and carried by the spaced holes of the drape / gown.
We are able to supply disposable surgical gowns, fabric surgical gowns, sterile surgical gowns, cloth surgical gowns etc.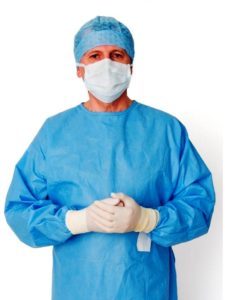 This sterile disposable surgical apparel set is packed under TCSqp brand by CE marking & ISO 13485 manufacturers.
Condition of storage to avoid product deterioration and shelf life issue:
Avoid direct sunlight, keep indoor & avoid hot area, store at temperature at between 10 to 25 degree Celsius and a relative humidity at between 40 to 60 percentages.
If you need more info, please email to us at admin@tcsqp.com.my
Thank you.
Yours truly,
The management of TCS Quality & Productivity Sdn Bhd