Our Medical Rubber Finger Cover (100% Latex Free & 100% Natural Rubber with low protein level) is an important component to be used for TUR drape / Urology Drape or any surgical drape. TUR inserts have been specifically developed for TUR, or €œtransurethral resection, surgery of prostate or the bladder.
They are supplied with medical double adhesive tape already applied, and are simply attached over an opening embroidered in the drape. The inserts are tear-resistant and they return to the original state after stretching.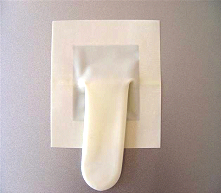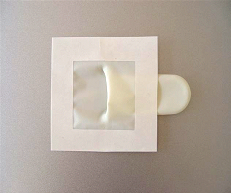 This product is with the specification as below:
– Product Diameter: 26mm +/- 2mm
– Product Length: 89mm +/- 4mm
– Product Thickness: 0.25 to 0.30mm (Single Layer) +/- 0.08mm
– Base Diameter: Max 68mm* +/- 2mm
– Colour: Ivory White & Beige
– Shelf Life: 1 to 3 years
Note: *Base Diameter, we can die cut for 60mm, 63mm, 65mm & 68mm +/-2mm
Product Application: For TUR Drape, Medical purpose & Rectal Examination
Characteristic: 100% Latex Free, Low Protein / Protein Free, Powder Free & Chlorinated
Sterilization Process: OK for Gamma & ETO process.
Bio-compatibility & Hypersensitivity Test: Done by TUR drape customers and Pass
Condition of storage to avoid product deterioration and shelf life issue:
Avoid direct sunlight, keep indoor & avoid hot area, store at temperature at between 10 to 25 degree Celsius and a relative humidity at between 40 to 60 percentages.
We have many types of Medical Rubber Finger Cover for TUR drape. If you need more info, please email to us at admin@tcsqp.com.my
Thank you.
Yours truly,
The management of TCS Quality & Productivity Sdn Bhd